Sound Beginnings features on the Morning talk show "The Doctors"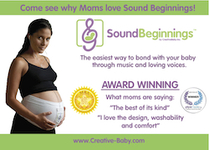 We are thrilled to share with you the latest news on Sound Beginnings. We've just received confirmation that a segment featuring our product will run on the popular CBS morning show, The Doctors, on May 20th—during sweeps week! The segment, which as recorded last week, includes a lively discussion about the product and its use, and even shows the product on a mannequin. The promotional value of this spot is unparalleled and is only the beginning of great things to come.
Now is the time to place an order to benefit from this national exposure. Please contact the Creative Baby team at your earliest convenience for ordering information.
Sound Beginnings
7105 Third Avenue #328
Brooklyn, NY 11209
United States
Latest Buzz on Sound Beginnings…