Fairy Finery Is Not Just For Halloween.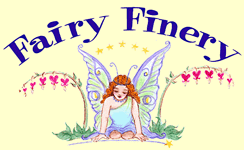 There's Magic In Every Stitch
At Fairy Finery our products are studio-made in the USA. We are dedicated to creating beautiful heirloom quality clothing, accessories
and gifts that will enchant you!
Discover our award winning, let's pretend dress-up costumes for the fairy princess, brave knight, regal king, super hero, magician,
wizard, Robin Hood, Peter Pan, woodsman, adventure seeker or whatever their imaginations dreams up!
Fairy Finery Inc
224 Burntside Drive
Golden Valley, MN 55422
United States
Latest Buzz on Fairy Finery Inc…