Baby Bella Maya Introduces Stroller Blankets, Just in Time for Fall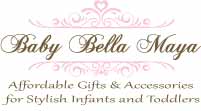 Just in time for fall, Baby Bella Maya introduces a line of stroller blankets intended to compliment their portfolio of car seat covers, infant carrier slip covers and accessories. This new introduction takes their popular plush blankets and makes them even more desirable by cleverly adding ties to the corners. Now the blanket can be attached to strollers, car seats, infant carrier covers, etcetera, the possibilities are endless. Pair this convenience with an ultra soft plush blanket that is extremely comfortable to cuddle up in and you have a winning design.
"Who isn't frustrated when a blanket slips off a stroller or when a restless child inadvertently kicks the blanket off. As a mother of 4 children, I know this feeling all too well. Now mothers and caregivers can have one less thing to worry about. " Marta Sala-Rothwell, Founder and President of Baby Bella Maya.
Stroller Blankets are available in seven popular designs. Available now in select fine children's boutiques and online at www.babybellamaya.com. Stroller blankets retail for $49 per blanket.
About Baby Bella Maya
Founded in 2005 by Marta Sala-Rothwell, a mother of four; Baby Bella Maya took the juvenile products industry by storm, receiving JPMA's 2005 Innovation Award for their inaugural product a baby carrier slipcover. Baby Bella Maya can now be found in over 1000 stores throughout the United States and has grown their product offering to include: designer baby booties, blankets, car seat covers, leggings, gift sets, headbands and fanny covers along with their original offering, front pack carrier covers. With a wide variety of coordinating accessories, Baby Bella Maya offers fashion forward products that are perfect to add ones personal style to any occasion.
For more information visit www.babybellamaya.com or call 1-805-498-1914
Baby Bella Maya
3567 Old Conejo Rd
Newbury Park, CA 91320
United States
Latest Buzz on Baby Bella Maya…