Satsuma Designs
Fresh, organic gifts and gear for baby and home
Main Profile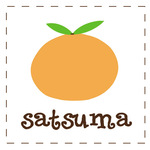 At Satsuma Designs we love babies! It's why we do what we do. Every design in our collection, business decision, daily detail and inspiration comes from our mission to create cozy, all natural and useful products for little ones.
We started the business to serve moms, dads, care givers and others searching for eco-friendly, yet elegant and practical gifts for babies. We leaped at the opportunity to connect our evolving sensitivity to a greener lifestyle not only for our own family, but every family. That's why Satsuma Designs was born.
As parents and consumers, we're guided by a desire to make smart, healthy, and affordable products and lifestyle decisions consistent with environmental stewardship. Our collection is designed and made in Seattle, Washington by a dedicated team of people who take care with every cut and stitch knowing that what we make will one day comfort a baby.
And every order does a little more. Satsuma Designs supports the work of St. Joseph's Baby Corner in Seattle where they provide essential care to babies in need and are "changing the world one diaper at a time."
Satsuma Designs - Good for your baby, Good for Mother Earth.
Seattle • Seattle, Washington 98105

| | |
| --- | --- |
| Contact: | Jennifer Porter |
| Phone: | (206) 604-6465 |
| Fax: | (413) 604-6468 |
Photo Gallery
Welcome to Satsuma Designs! Thanks so much for checking out our collection of fresh, organic gifts and gear for baby and home. Choose from our signature bamboo swaddling blanket and any of our ultra-plush, eco-luxe baby bedding to our collection of organic bamboo apparel and accessories, but don't forget our nursery essentials in bamboo and organic cotton: hooded bath towels, car seat liners and our custom Bento Gift Box collection. All of our products are made with care in Seattle, Washington. Sweet dreams from Satsuma Designs!