Wee Ones, LLC
The Bows You Know Only Better - Now Featuring the WEESTAY NO SLIP CLIP.
Main Profile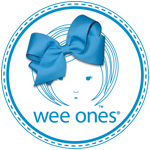 Wee Ones is a manufacturer and distributor of premium hair bows, headbands, clips and other fashionable accessories for babies and young girls. Founded in 1978, this family-owned company has grown to become one of the most recognized names in the children's accessory industry, and has been a recipient of numerous awards for design excellence. Wee Ones markets its products to a variety of boutiques, specialty stores and department stores in the United States and abroad, as well as direct to consumers through its website. The company also offers a line for tweens called Deidra & Kiki™, and a line for 10-18 year old girls called, Après les Petites™, which features sophisticated accessories that move beyond the traditional Wee Ones bow. In addition to the hair accessory collections, Wee Ones is a proud distributor of Knot Genie™, the amazing detangling brush for kids.
Now featuring the WEE STAY NO SLIP CLIP on Classics and Spring/Summer 2014 styles with pinch clips!
13601 Lakefront Drive • Earth City, Missouri 63045

| | |
| --- | --- |
| Contact: | Wee Ones, LLC |
| Phone: | (800) 258-9996 |
| Local: | (314) 400-6710 |
| Fax: | (314) 400-6711 |
Photo Gallery
For almost 40 years, we've been hand crafting girls' hair accessories with classic designs, fine quality and over-the-top customer service in mind. This gallery contains only a small sampling of what Wee Ones has to offer. To see the complete line of classics and seasonal styles in person, visit us at a trade show or call a Wee Ones Sales Representative. Visit weeones.com for more information, or to see the entire selection of In-Stock styles, ready to ship to you in three business days! You can order online 24/7!