Dapper Snappers special!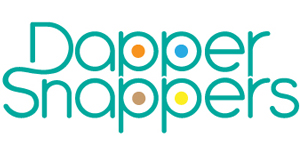 Expired:
June 25th, 2010 - July 15th, 2010
Boost Summer Sales with Dapper Snapper 3-Packs!
MSRP $24.95 USD
Wholesale $12.50 USD
Plastic "Clamshell" packaging
#1 Selling Item on DapperSnappers.com
Dual Language information on back in English / Spanish or English / French
All over the world, Dapper Snappers are being purchased by savvy moms that recognize the need to "Fix Droopy Drawers in a Snap!" Store owners from coast to coast have raved about how this little product has become one of their top sellers within two months of carrying them.
Now, Toddler Tech USA is proud to introduce a new packaging option for retail stores that holds three Dapper Snappers instead of only one. Customers who contemplate buying two singles will certainly appreciate these bundles.
Add 3-Packs to your inventory today!!!
Get 1 FREE!!!
For every 10 Dapper Snappers singles or 3 packs your purchase, you will receive 1 FREE single or 3 pack of equal or lesser value. Coupon not good toward credit on account. Not valid in conjunction with any other offer, discount, or promotion. Offer good only in the USA and Canada.
Offer Expires: July 15, 2010
USA
Toddler Tech USA, LLC

(866) 998-8872 ext 2
Canada
Urban Bubbles

(905) 655-0710
Dapper Snappers
413 Oak Place, Suite 4-S
Port Orange, FL 32127
United States
Latest Buzz on Dapper Snappers…