ABC Preview: Creative Baby™ Aims to Boost Learning with Tech-Focused Furniture
By david gaunt
If parents could give their kids a boost in language skills at a very early age, would they try it? That's the mission behind
Creative Baby
and its extended line of educational products that offers baby steps in exposing tots to phonics, foreign languages, geography and nature. Their award-winning foam i-Mats –– where pictures "talk" to youngsters when touched with a Voice Pen™ –– expand with two new play mats, Alphabet i-Mat ($29.99 MSRP) and Under The Sea i-Mat ($29.99).
The World of Eric Carle
Learning Table and Chair ($49.99). And anywhere –– on the floor or on parents' lap –– is the perfect spot to break out the Interactive Activity Cards ($4.99) for a lesson on land animals, sea creatures and the alphabet.
ABC Kids Expo
(Sept. 6-10, Las Vegas) attendees can try out each of these pieces at Booth #3625.
"You can go ahead and be all 'I want that!' with this one, guys. Because, even though I review a lot of items, I am drooling myself over the i-Mat: My Animal World from CreativeBabyInc.com," gushed mom blogger Lori Pace on her popular site, A Day in Motherhood. "It is just awesome. One of those gifts for 18-month-old girls – and boys — that keeps them entertained and learning well into their childhood!" Industry judges from Academics' Choice wholeheartedly agreed and awarded My Animal World i-Mat its prestigious Brain Toy Award for 2014 for "mind- building excellence."
Eric Carle Happy & Hungry Booster Seat

Fun graphics, wipe-clean seat, removable tray, adjustable chair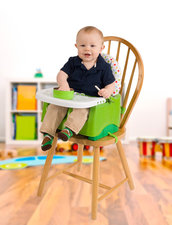 Creative Baby offers mind-boosting play through their series of themed interactive foam mats made of four interlocking soft sections that magically become interactive when used with the company's patented Voice Pen. Babies and older siblings learn while exploring illustrated mats featuring animals or life under the sea or simply alphabet letters with a simple touch on the "word bubble." They're instantly rewarded with an animal sound, a word, music or a foreign language (Spanish, Mandarin, English) translation! Newborn babies can enjoy the mat without the pen — the mat is phthalate-, lead- and heavy metal-free, and no electronics mean no worries for wiping the mat clean.
In addition to these new products, Creative Baby is developing other products around the Voice Pen Technology. The product line is called ILS (Interactive Learning System).
See Creative Baby at ABC Kids Expo Booth #3625 or www.CreativeBabyInc.com
More To See