Get Into The Giggle Guide®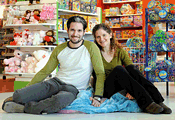 Are you in the industry?
Then join us…
Register today and take advantage of our many membership benefits, including Gigglemarks and FREE business profiles. Also read about the exciting options available via our Premium Business Packages.
Get into The Giggle Guide® today!
The Guide - Photo Roulette
Squeezing the goodness out of what we are given.
A better diaper for a better planet.