Get Into The Giggle Guide®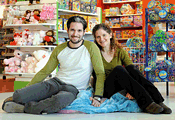 Are you in the industry?
Then join us…
Register today and take advantage of our many membership benefits, including Gigglemarks and FREE business profiles. Also read about the exciting options available via our Premium Business Packages.
Get into The Giggle Guide® today!
Recent Trade Tweets
The Devyn two tone Bow✨ . . . . #noslippyhairclippy #trendytots #momlife #thepursuitofjoy #hairbow #nosliphairclip…

https://t.co/M6FHJ6uuFe

1 day 52 minutes ago

Welcome Wonderful Wednesday ✨ Get your little one's hands on these! Our Fuschia Chewtensils™️✨…

https://t.co/oIHAzYuVsL

1 day 2 hours ago

1 day 19 hours ago

Guess who's back in stock? Our customer favorite Unicorn shoe in Originals (baby) sizing and... wait for it... Flex…

https://t.co/Y46iTXKwCK

2 days 24 minutes ago

2 days 19 hours ago
The Guide - Photo Roulette
A better diaper for a better planet.
Squeezing the goodness out of what we are given.