Get Into The Giggle Guide®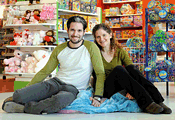 Are you in the industry?
Then join us…
Register today and take advantage of our many membership benefits, including Gigglemarks and FREE business profiles. Also read about the exciting options available via our Premium Business Packages.
Get into The Giggle Guide® today!
Recent Trade Tweets
How to prep like a chef for the holidays #yumbox #miseenplace #foodprep #foodstorage #thanksgivingprep

https://t.co/ehgHxTZvtc

2 weeks 2 days ago

The leakproof stainless steel Yumbox Presto is now restocked! Use discount code FALL20 for 20% off at…

https://t.co/ojBFEkt1Od

3 weeks 6 days ago

4 weeks 1 day ago

5 weeks 23 hours ago

Have you heard? Yumbox Snack is now redesigned with a bigger dip well. Because we know it's all about dipping!…

https://t.co/Zo8MZc1Ggl

6 weeks 7 hours ago
The Guide - Photo Roulette
Because Kids Will Be Kids!
Innovative, Modern, Safe - Baby & Kids Products