Get Into The Giggle Guide®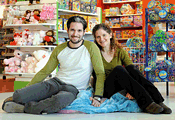 Are you in the industry?
Then join us…
Register today and take advantage of our many membership benefits, including Gigglemarks and FREE business profiles. Also read about the exciting options available via our Premium Business Packages.
Get into The Giggle Guide® today!
Recent Trade Tweets
❄️12 DAYS OF GIFTING❄️ Traveling? Check out our Clear Travel Bags for organizing all your essentials, BOGO HALF OFF…

https://t.co/r5PzO0mbJf

1 day 10 hours ago

@DavidMuir

#MadeInAmerica Liz and Roo products are made in Kentucky and Utah! Building sewing jobs back up!

2 days 19 hours ago

Silence is golden until you have kids. Then it's just suspicious. #TitleThisChapterOfYourLife #momlife #kids #toddlerproblems

3 days 12 hours ago

It's time! 12 DAYS OF GIFTING starts now! ❄️ TODAY AND TOMORROW 25% on Art Smocks + Bibs with code BIBS25 ❄️ Offer…

https://t.co/QcOw0807nz

3 days 12 hours ago

This Hanukkah, there is a sale coming to you! Follow our Instagram and Facebook for updates and exclusive deals!…

https://t.co/gPfYA8V0fQ

4 days 11 hours ago
The Guide - Photo Roulette
A better diaper for a better planet.
Swaddled Babies Sleep Better®