Get Into The Giggle Guide®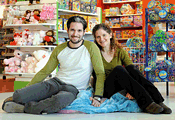 Are you in the industry?
Then join us…
Register today and take advantage of our many membership benefits, including Gigglemarks and FREE business profiles. Also read about the exciting options available via our Premium Business Packages.
Get into The Giggle Guide® today!
Recent Trade Tweets
13 hours 6 minutes ago

We are now taking applications for the ABC Scholarship Program for both Specialty Retail and Manufacturer sectors!…

https://t.co/OzL81F6bzX

15 hours 6 minutes ago

Have our Nintendo Teethers one up-ed your teether game? Prove it! Help us win the Best Silicone Teether award! Voti…

https://t.co/UQIvkDCQLv

17 hours 8 minutes ago

Sunshine, beaches, sand castles, oh my! Stock up on vacay-ready sandals for the little ones in the family! Take an…

https://t.co/yKMf1JqQsX

1 day 15 hours ago

Major. Sandal. Sale. Make sure they're vacay ready! Save up to 65% off sandals with code TOESOUT30! Link in bio…

https://t.co/eunXZPmzaW

2 days 18 hours ago
The Guide - Photo Roulette
Making Kids Fashionable since 1980
A better diaper for a better planet.