Get Into The Giggle Guide®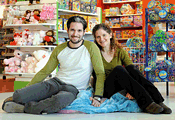 Are you in the industry?
Then join us…
Register today and take advantage of our many membership benefits, including Gigglemarks and FREE business profiles. Also read about the exciting options available via our Premium Business Packages.
Get into The Giggle Guide® today!
Recent Trade Tweets
Wow is right! We moms rock! #noslippyhairclippy #nosliphairclips #momlife #mom #babyhairclips #shop #hairclips…

https://t.co/lOHg5YWPuF

27 minutes 16 sec ago

1 hour 19 minutes ago

1 day 1 hour ago

2 days 1 hour ago

Baby it's STILL cold outside.... #KIDSBOOTSALE #pediped #pedipedFootwear #Pedipeds #KidsShoes #BabyShoes…

https://t.co/kw6Lpl4z0E

2 days 11 hours ago
The Guide - Photo Roulette
Because Kids Will Be Kids!
Because Kids Will Be Kids!