Bumkins
Main Profile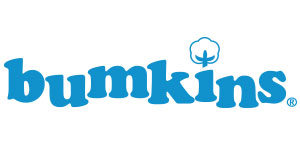 Our Brand Promise
Bumkins is dedicated to providing distinctively designed, quality, family-oriented merchandise. Bumkins believes that products can be both practical and attractive, and strives to provide visually appealing, value-driven merchandise to our loyal customers.
History
Bumkins Finer Baby Products was founded by Jakki Liberman in 1989. Initially conceived as a means to provide her own young family with an alternative to disposable diapers, Jakki began the company with a single prototype, the All in One cloth diaper. This inventive design, which rivaled disposables in convenience, became the foundation of Bumkins product offerings.
Bumkins Finer Baby Products soon expanded its line to include bibs, smocks, bags and many more products utilizing its signature soft, machine washable, waterproof fabric. With this product growth, Bumkins current best-selling product, the SuperBib® was launched in 1991 with great response.
In 2005 Bumkins became a Dr. Seuss licensee and entered into the world of infant and toddler apparel. Currently, Bumkins Finer Baby Products is proud to offer a robust catalogue of baby merchandise available in wide range of independent and mass retailers, as well as the claim of creatorship to the number one selling bib in America, the SuperBib.
What's New?
Product development continued in 2013 when Bumkins diversified its merchandise offerings by introducing the Nixi brand, an upscale product grouping which features silicone teething jewelry and waterproof recycled fabric bags.
2014 saw the launch of a new co-branded licensing partnership with Disney. The Disney Baby collection from Bumkins pairs the high quality products and on-trend designs that Bumkins is known for with modern prints of classic Disney characters to create a magical collection that the whole family will appreciate.
5454 E. Washington St. #2 • Phoenix, Arizona 85034

| | |
| --- | --- |
| Phone: | (866) 286-5467 |
| Local: | (480) 481-3618 |
| Fax: | (877) 286-3511 |
| Local Fax: | (480) 481-9248 |