Kissy Kissy's Spring/Summer '16 Collection Inspires Fun in the Sun
The Peruvian Pima cotton baby brand offers families a memory-making array of seasonal prints, themed embroideries and classic si
RED BANK, N.J. (June 22, 2015)—The Kissy Kissy Spring/Summer 2016 collection is the perfect companion for wherever families may frolic, romp or roam. Whether their trips take them across the sea, over the sand, on the road or across town to grandma's, the company offers a delightful mix of whimsical prints and sweet themes to match these warm weather adventures as well as a menagerie of fun-loving animals. The Peruvian Pima cotton collection spans sizes preemie through 6.
"Moms love the softness of Kissy Kissy but they also adore our prints. Some moms become attached to them, buying them in every size as baby grows, while others await the latest version of a beloved theme each season," says founder and owner Roxana Castillo. "And in the warmer months especially, parents want to dress baby according to the day's activities—like nautical for the beach or sports for the ballpark. So for spring we focused on helping them create picture-perfect memories."
A lively mix of storybook, sketch and pastel illustration styles provide depth and variety to the line, which depicts busy highways, sandy beaches, lush gardens, deserted islands, vast oceans, ripe farm stands and majestic safaris. Plus, holiday-ready themes include bunnies galore and patriotic red, white and blue combinations. To complement the conversational prints, each grouping also intermixes pieces with simple geometrics, solids and ditzy repeats as well as loads of embroideries to bring the themes to life.
All new prints abound, including Parasol Paradise, which bursts forth with colorfully adorned umbrellas; Brigantine, featuring an armada of paper sailboats; and Cheery Chevron, offering a hand-drawn zigzag pattern in ombré tones. Additionally, some familiar favorites receive a fresh update like Cottontail Duo, featuring a new spin on the bunny silhouette print; Whale Tales, which introduces a fresh group of ocean-dwelling friends; and Pastels, showcasing a bestseller from fall, the 3D tulle rosette.
Kissy Kissy's Heart Blossom features a delicate floral print accented with a tulle overlay and 3D rosette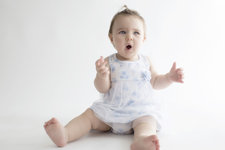 Kissy Kissy Premier continues its tradition of offering the sweetest garments accented with hand embroidery and smocking. The delicate embellishments featured throughout showcase the light touch of the skilled hands that personally create each one, elevating the pieces to keepsake status. The collection features a garden party for girls with boughs of blossoms, flattering floral sprays, and a smattering of buds, and the boys' pieces are in shipshape with an ocean of sailboats, anchors and sailor bears.
Kissy PJs returns with dreamy new prints that are perfect for bedtime (or anytime) in sizes 12-18 months up to 6. The snug-fitting two-piece sets feature the spirit—and softness—of Kissy Kissy. Look for dynos on a bike race, party animals livin' it up on vacation, night owls caught in a downpour, and girly goods raided from mom's vanity.
Kissy Kissy teems with warm-weather silhouettes, including bubbles, short playsuits, sun suits, shorts sets, capri sets and dresses along with baby essentials like converter gowns, footies, bishops, bibs, blankets, booties, hats and burp cloths. The collection retails from $9 to $57, with christening wear starting at $50.
Tatiana and Company launched Kissy Kissy in 1997 to meet a need in the market for a traditional Peruvian Pima cotton layette line, offering a full range of coordinating apparel and accessories. The company was the first in the United States to do so, and the brand is still No. 1 in the hearts and minds of moms around the world. Today, Kissy Kissy is carried in the finest department stores and specialty boutiques around the world and has a strong celebrity fan base that includes Drew Barrymore, Katie Holmes, Molly Sims, Celine Dion, Salma Hayek, Brooke Shields and Alyson Hannigan. From wardrobe essentials to dressy options, the brand delivers timeless pieces in each division, including sweet looks in the Kissy Kissy line; bolder statements from Kissy Kissy's Qt-Qt; christening apparel in Besos by Kissy Kissy; and embroidered and smocked garments from Kissy Kissy Premier.
Caletha Crawford
n/a
New York, NY 10001
United States
Latest Buzz on Caletha Crawford…