Limeapple Boutique's Fall/Winter 2015 Collection is Ripe for Expansion
The tween clothing collection welcomes little sisters with Little Lime in sizes 12 months to 6X.
CALGARY, Alberta, Canada (January 23, 2015) Limeapple Boutique (formerly known as Girl & Company) takes its "cute to the core" aesthetic down to little sisters with Little Lime. And the apple doesn't fall far from the tree. The new collection, offered in sizes 12 months to 6X, coordinates back to the big girls with complementary bodies, colors and themes.
"We're so excited to give little girls the opportunity to live the Limeapple Boutique lifestyle with Little Lime," says owner Debbie Naren. "The new size range mimics the big girls' collection but with an extra dollop of sweetness. Plus, it allows us to meet consumers' ever-growing appetite for our age-appropriate, fun looks at competitive prices."
After a successful preview last season, Limeapple Boutique embraces little girls' sizes with the introduction of Little Lime. Taking cues from the tween collection, Little Lime amps up the cuteness with sportswear sets that offer vibrant colors, girl-approved themes and comfortable, stylish bodies. Rainbow horse, sassy penguin, loyal pup and regal crown screenprints set a fun tone on tunics, tops and ruffle dresses. Matching leggings offer fun surprises like puppy paws and hearts on the knees and layers of ruffles at the ankle. And no Limeapple collection would be complete without the brand's signature Cuddle Bubble—scrumptiously soft, textured hooded jackets, leggings and pants—now offered in rainbow tie dye from baby through tween.
Limeapple Boutique offers age-approriate, trend-right sportswear and dresses for every day, parties and holidays.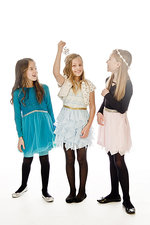 For the big girls, Limeapple Boutique spans sizes 4 -14 and fulfills customer requests with all new accents, treatments and trims. The brand is debuting glitter prints and hand beading on tees, sweatshirts and dresses. The trend-right selection includes moto-zip jackets with ruffle details; fit-and-flare tops with inverted pleats and statement screens on the back; and faux crop tops over flowing flutter hems. The tunics, tops and jackets mix and match with leggings, straight-leg pants and relaxed jogger bottoms as well as an array of skirts, including asymmetrical ruffle and skater styles.
The dress selection ranges from every day to holiday with knits with printed woven underlays, sweater knits that offer textural interest, drop-waist silhouettes with ruffled hems and trapeze styles with butterfly prints. Lace adds interest to yokes, insets and sleeves while sequins glisten across the body for maximum bling or appear on cap sleeves for restrained shimmer. Limeapple tops off the line with the addition of cozy hooded vests and jackets made of faux-fur leopard and a super-soft shag in gray, creme and dusty rose as well as scarf and mitten sets in complementary fur.
Girl & Company—makers of Limeapple Boutique, Limeapple Sport and Limeapple Swim—is an upbeat, feminine and fun girls wear company, spanning sportswear and performance activewear for sizes 12 months to 14. The brand's lines happily borrow from the latest trends but never lose focus on creating age-appropriate styles that make mom and daughter smile. While style is important, the company is equally focused on comfort, selecting fabrics that fit, flatter, move and breathe. Limeapple Boutique, formerly sold under the Girl & Company brand name, features on-trend separates and dresses for school, weekends, parties and holidays in an array of colors, styles and patterns. Limeapple Sport promotes wellness with high-quality dance, yoga, sport and workout wear for girls on the move. Visit limeapple.com.
Caletha Crawford
n/a
New York, NY 10001
United States
Latest Buzz on Caletha Crawford…