ABC Kids Expo
October 10th, 2010 - October 13th, 2010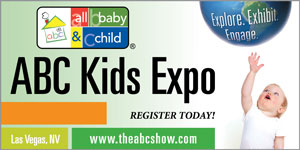 Completed:
October 10th, 2010 - October 13th, 2010
The ABC Kids Expo is the premier juvenile products specialty show in the nation. With more than 800 exhibitors in over one million square feet of exhibit space, it is now one of the fastest growing trade shows in the nation (TSW - Trade Show Week 2005-2008).
As always, our 2010 show promises to feature the newest innovative products and unsurpassed networking opportunities in the industry.
This is a private trade show for the juvenile products industry and is not open to the general public. We welcome all retailers, exhibiting manufacturers, sales representatives, importer/exporters and members of the media.
Witness the "Power of Partnership" and develop long-lasting profitable relationships by attending the annual ABC Kids Expo.
Las Vegas Convention Center
3150 Paradise Road • South Hall • Las Vegas, Nevada 89101
All Baby & Child, Inc. (ABC Kids Expo)
PO Box 780847
San Antonio, TX 78278
United States
Who Attended…
Arizona - United States

Safe Sleep Made Easier™

Minnesota - United States

Swaddled Babies Sleep Better®

Washington - United States

laugh.love.baby. We make the best in baby gifts!

British Columbia - Canada

Peace. Love. Baby "Baby gifts packaged with love"

New York - United States

The Clip with the Silicone Grip that Just Won't Slip and other innovative accessories!

Alberta - Canada

Preserving the innocence of a child

California - United States

Fix Droopy Drawers in a Snap!

Florida - United States

Giving back in brand new ways

New York - United States

What's in your Toolbox?

California - United States

Creative fun for active kids!

Washington - United States

Serving the legal needs of the fashion industry for more than a half century

New York - United States

Sun protection apparel and accesssories

Ontario - Canada

Urban Footwear for First Steps

Washington - United States

Raise funny people™

North Carolina - United States