No Slippy Hair Clippy® Corners Market, Wins Celebrity Raves.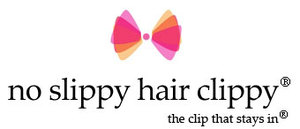 Unable to find anything that would stay in her infant daughter's fine hair, one frustrated mother took matters into her own hands and developed a velvet-lined pinch clip. It was definitely an improvement over what was available, but when a magnet was added to the design, improvement became innovation, and a truly non-slip clip was invented. Launched in 2002, No Slippy Hair Clippy® has created a unique niche in the baby accessory market, where its ingenuity is widely recognized and rewarded.
Testimonials extolling the wonders of No Slippy Hair Clippy® have poured in since 2006, when the product was first included in BopStarBaby's BabyMakes3 celebrity baby baskets. Based in Nashville, Tennessee, BopStarBaby sends baskets of luxurious baby products to celebrity parents. Among the premier companies to sign up with BopStar Baby, No Slippy® has received ecstatic reviews from BabyMakes3 recipients. For example:
Kevin James says he and his family are "faithful customers of
No Slippy Hair Clippy®," adding, "No other clip will do the job!"
"NYPD Blue" star Mark-Paul Gosselaar says he and his wife
"love the No Slippy Hair Clippy® for our 10-month-old daughter."
Angela Bassett claims to be "gaw-gaw over No Slippy's® barrettes and bows."
Jason Priestley says, "Ava & I love these clips - for the moment, it's the only way people can tell Ava is a girl!"
"We love our No Slippy Hair Clippies! Josselyn wears them every day. What fun! Thank you so much!" says Samantha Harris, who asked BopStar Baby to send additional clips. Not long afterwards, a two-page photo spread featuring her daughter Josselyn wearing the No Slippy® Nora pink gingham clip appeared in US Weekly.
No Slippy® is a huge draw at L.A.'s Boom Boom Room, where celebrity fans routinely rave to No Slippy® President/CEO Annie Salyer about her company's product. In a note to BopStarBaby's MaryLenore Arsenault, Zorianna Kit of the TV Guide Network confides, "I met the fabulous ladies of No Slippy Hair Clippy® at one of the Golden Globe suites at the Boom Boom Room. It was such a pleasure to see them in person and personally thank them for creating an amazing hair product. The best thing about No Slippy® is that their hair clips actually STAY in Olivia's baby-fine hair! It's such a wonderful product and they are such wonderful ladies!"
Currently, No Slippy Hair Clippy® has a patent pending for the magnetic hair clip, along with 14 registered trademarks, including "Non-Slip Hair Accessories." Though still a small company, it continues to be forward-thinking, as evidenced by its product designs, advertising, and website. Notes Salyer: "We forged a "non-slip" hair accessories category in the marketplace, and we'll continue to create innovative products that make a difference and look gorgeous!"
"A lot is going on at No Slippy Hair Clippy®," Salyer adds enthusiastically. We don't like to brag, but wow! There really is a pretty big story here!"
No Slippy Hair Clippy, Inc.
801 Alamo Drive
Vacaville, CA 95688
United States
Latest Buzz on No Slippy Hair Clippy, Inc.…