Elegant Hair Accessories for Prom Night From No Slippy Hair Clippy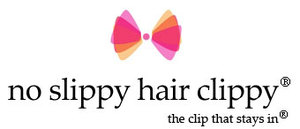 The senior prom will be one of the most memorable nights in a girls life. Surely she'll look beautiful and elegant, just like a movie star!
Picking the perfect gown is never easy, but in between custom fittings and arranging limo rides, don't overlook choosing the right hair accessory to complement her gorgeous evening attire.
Don't panic! We scoured red carpets far and wide for the trendy looks sported by today's young stars, and matched them with No Slippy Hair Clippy® accessories that will look hip and keep things classy!
They want to mimic Taylor Swift's wavy coif! Why not go with the Ryan flower, a dainty silk organza flower that looks great on wavy hair and comes in five rich colors, from soft pink to dark brown.
With girl with long dark hair like Nina Dobrev of Vampire Diaries fame, try headbands. Hold it in place with the lovely Tonya headband, an organic cotton headwrap topped off with a silk flower design.
All-American girl Diana Agron, who plays Quinn Fabray in Glee, sports a princess-like updo that frames her beautiful face. No Slippy Achieves the same soft look with the Parker bow, available in lavender and light blue.
For the fashion rebel who wants to make a statement like music siren Lady Gaga, the Fiona clipette bow is a flexible choice that can be attached on back, top, or side of any hairstyle. The white color version gives off a girly and feminine vibe, but the volume can be pumped up by choosing more vibrant hues, such as shocking pink.
Stock up your supplies, No Slippy Hair Clippy has what your store needs
No Slippy Hair Clippy, Inc.
801 Alamo Drive
Vacaville, CA 95688
United States
Latest Buzz on No Slippy Hair Clippy, Inc.…