In Full Bloom: Lovely hair accessories for Spring From No Slippy Hair Clippy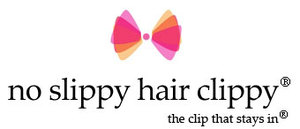 Over winter, we tend to bury ourselves in wool coats, knit bonnets and wraparound scarves to keep warm. But spring is here so shed away those bulky layers in favor of light, vibrant outfits! It's time to stock up your Hair Accessories and No Slippy Hair Clippy has just the line up to finish off new outfits with these flower-themed hair accessories from No Slippy Hair Clippy:
The Layla clip has a two tone felt design and studded with sparkling acrylic gemstones. It comes in various orchid color pairings from french blue and sand yellow to lime green and mandarin orange (in picture).
The Felicia Flower clip has a bejeweled design that looks dazzling on any young girl. You can choose between a pinch clip or French clip version, and can pick from among three gem colors including bright lavender (in picture).
Cute as a button! That's what everyone will say when they see a little tyke wearing the Isabeli clip, a no-slip felt mini clip that comes in shocking pink, lime and lavender (in picture).
Pack the Andrea Headband and make heads turn when you pair either the red (in picture) or black accessory to favorite summer frocks.
If the weather is breezy try the Sage Headband is a wonderful choice since its cotton headwrap design keeps hair firmly in place. The daisy flower centerpiece also helps soften rugged hiking ensemble.
For more hair accessories perfect for Spring, browse through our complete collection at the No Slippy Hair Clippy store.
No Slippy Hair Clippy, Inc.
801 Alamo Drive
Vacaville, CA 95688
United States
Latest Buzz on No Slippy Hair Clippy, Inc.…