ABC Kids Expo 2011 Features Showcase
&

Reception To Introduce Juvenile Industry's Newest Product Offerings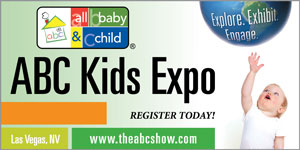 ABC Kids Expo® will unveil its enhanced New Product Showcase at the 2011 tradeshow in Louisville, Kentucky. This featured locale, sponsored by Baby Jogger, gives manufacturers a platform to introduce their hottest new products for the coming year to the industry and is a much anticipated feature of the show.
This year, the showcase will be located in the main lobby of the exposition center for maximum exposure. A private reception will be held there from 4:30PM to 6:00PM on September 22, the evening before the tradeshow starts. This event is for independent juvenile specialty stores and members of the media only, and has historically allowed many new products to receive international online publicity before the expo even begins.
Space is still available, but manufacturers must act quickly to meet the August 31 deadline. Applications can be submitted online under the Exhibitor Info/New Product Showcase tab on the ABC Kids Expo website.
For more information or to register for the show, visit www.theabcshow.com or call the ABC Hotline at (210) 691-4848.
All Baby & Child, Inc. is a non-profit organization founded in March 2003. It is a partnership of juvenile products manufacturers and industry retailers whose primary objective and purpose is to act as a business league that helps organize and produce trade shows and educational conferences for the benefit of juvenile products manufacturers, industry retailers, trade media, distributors and manufacturers' representatives of juvenile products. The ABC Kids Expo® is their private trade show for the juvenile products industry and is not open to the general public.
All Baby & Child, Inc. (ABC Kids Expo)
PO Box 780847
San Antonio, TX 78278
United States
Latest Buzz on All Baby & Child, Inc. (ABC Kids Expo)…