Maternity Square Showcase Returns to ABC Kids Expo in 2011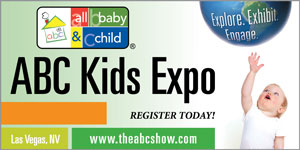 ABC Kids Expo® has announced that its Maternity Square® Showcase will be back in 2011. The showcase, which debuted in 2010, was such a success that ABC is expanding the showcase and continuing to offer the runway to allow exhibitors to feature and demonstrate their products from the "big stage." A professional model and talent company has been retained to produce and emcee the runway shows.
Maternity Square provides a unique platform for maternity and related product manufacturers to reach a retail niche that may not be accessible through other expositions or events. The showcase features maternity clothing and lingerie, personal care and beauty products, and fashion and accessory items such as diaper bags, nursing products, slings and covers.
To be included in the Maternity Square pavilion, manufacturers' products must display original, creative and authentic design and their product lines must contain a dominant concentration of products that are specifically designed for the expectant or new mother or father.
For more information about the show, visit www.theabcshow.com or call the ABC Hotline at (210) 691-4848. Manufacturers interested in exhibiting should ask for David Rice at extension 112.
ABOUT ABC KIDS EXPO / ALL BABY & CHILD, INC.
All Baby & Child, Inc. is a non-profit organization founded in March 2003. It is a partnership of juvenile products manufacturers and industry retailers whose primary objective and purpose is to act as a business league that helps organize and produce trade shows and educational conferences for the benefit of juvenile products manufacturers, industry retailers, trade media, distributors and manufacturers' representatives of juvenile products. The ABC Kids Expo® is their private trade show for the juvenile products industry and is not open to the general public.
All Baby & Child, Inc. (ABC Kids Expo)
PO Box 780847
San Antonio, TX 78278
United States
Latest Buzz on All Baby & Child, Inc. (ABC Kids Expo)…