2011 ABC Kids Expo Partners with Centerplate to Provide Dining Choices for Attendees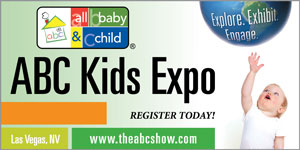 Serving Up Kentucky Hospitality
Attendees at the 9th Annual ABC Kids Expo® will have no excuse to go hungry thanks to Centerplate, one of the largest hospitality companies in the world and the official concessions contractor for the Kentucky Exposition Center in Louisville.
Doug Simmonds, Centerplate's general manager, promises that there will be plenty of "food for every budget — from $2.50 hot dogs at concession stands to a $14.95 all-you-can-eat buffet on the mezzanine level with table cloths and china."
Many of Centerplate's Signature Menu favorites, like sausage and pepper grill plates, create-your-own pasta dishes and "Skinny Skins" American-style nachos, will be available in kiosks and concession stands throughout the convention center.
In addition, a wide variety of items from Papa Murphy's Pizza, Kentucky Pork Producers, Kentucky Cattleman's Association, Kentucky Fish Farmers and others will be available. A grab-and-go Kosher food stand will be available in the south wing.
ABC Kids Expo, the largest juvenile products industry show of its kind in the world, will run September 23 - 26, 2011. Qualified attendees and media can still register through the ABC Hotline or online at www.theabcshow.com.
About ABC Kids Expo/All Baby & Child, Inc.
All Baby & Child, Inc. is a non-profit organization founded in March 2003. It is a partnership of juvenile products manufacturers and industry retailers whose primary objective and purpose is to act as a business league that helps organize and produce trade shows and educational conferences for the benefit of juvenile products manufacturers, industry retailers, trade media, distributors and manufacturers' representatives of juvenile products. The ABC Kids Expo® is their private trade show for the juvenile products industry and is not open to the general public.
All Baby & Child, Inc. (ABC Kids Expo)
PO Box 780847
San Antonio, TX 78278
United States
Latest Buzz on All Baby & Child, Inc. (ABC Kids Expo)…