Kentucky Expo Center and Partners Investing $1.2 Million in Improvements Before ABC Kids Expo 2012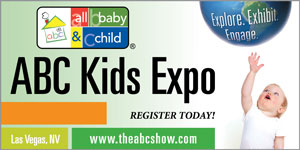 ABC Kids Expo attendees and exhibitors at the 10th Annual ABC Kids Expo® are in for a treat. The Kentucky Exposition Center and its partners are investing over $1.2 million in improvements in time for the tradeshow being held at the facility on October 14-17, 2012.
Returning visitors will notice a much broader sampling of Louisville's spectacular cuisine at the convention center, such as:
• Additional healthy option menus and kosher options;
• More concession and specialty coffee locations throughout the hall;
• New look and menu of food and beverage offerings;
• Cash and credit card acceptance at all concession and dining locations;
• More seating in and around food and beverage locations.
Other new features throughout the exhibition facility will include:
• New state-of-the-art WIFI equipment;
• Increased signage, security, maintenance and housekeeping;
• Improved exhibit hall lighting and HVAC;
• A larger staff of knowledgeable customer service representatives for during set-up and teardown, as well as during the show;
• A permanent business center to be run by UPS or FedEx (pending bid award);
• Free parking for exhibitors on load in/out days, lower flat-fee daily rates during the show with in/out privileges, increased
staffing and easier payment options.
The Louisville Convention & Visitors Bureau (LCVB) along with the city and its hotels, restaurants, airport authority, and taxi companies are also raising the bar regarding service and safety for ABC visitors throughout their stay. For example:
• The LCVB is partnering with area restaurants to ensure they are open and staffed to handle convention traffic. Several new
restaurants are opening this year.
• The Louisville Airport Authority is working with its tenants, airlines and others to provide expanded service during the
convention period.
• In addition to an enhanced police presence by the city, the Louisville Downtown Management District is augmenting its
Ambassador program to better serve the needs of convention visitors.
• The Hyatt Regency Hotel is undergoing a $5.8 million renovation due to be completed by show time.
Meanwhile, the staff at ABC Kids Expo is pulling out all the stops to make this gala tenth anniversary event the best show yet. More details to come.
Registration for both exhibitors and attendees for the 2012 ABC Kids Expo is available online at www.theabcshow.com or by calling the ABC Hotline at (210) 691-4848.
ABOUT ABC KIDS EXPO / ALL BABY & CHILD, INC.
All Baby & Child, Inc. is a non-profit organization founded in March 2003. It is a partnership of juvenile products manufacturers and industry retailers whose primary objective and purpose is to act as a business league that helps organize and produce trade shows and educational conferences for the benefit of juvenile products manufacturers, industry retailers, trade media, distributors and manufacturers' representatives of juvenile products.
All Baby & Child, Inc. (ABC Kids Expo)
PO Box 780847
San Antonio, TX 78278
United States
Latest Buzz on All Baby & Child, Inc. (ABC Kids Expo)…