ABC Kids Expo Announces Largest Toy Pavilion in Show History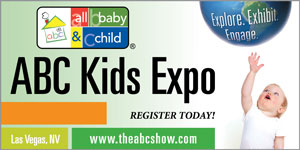 All Baby & Child, Inc. (ABC), the parent company and organizer of the ABC Kids Expo, is proud to announce that 2010 will mark the largest attendance of toy manufacturers since its inaugural year in 2003. Presently there are over 100 companies that are declaring the "primary product line to be Toy and AV. More than half of these companies are First Time exhibitors and many represent product launches. Many of the exhibitors are from the United States, but companies from Belgium to New Zealand to Hong Kong will be in attendance. In total we have over 20,000 square feet of exhibit space dedicated to this segment of the juvenile market.
Larry Schur President of All Baby & Child indicates that "While 2010 will mark our largest collection of companies focused on the juvenile toy and audio visual market, additionally we have hundreds of other exhibiting companies that service the toy industry that consider the primary product to be baby gear or baby care" A complete list of exhibitors is available on the ABC Kids Expo website: www.theabcshow.com.
Maternity Square™ is New ABC Showcase
In addition to the Largest Toy Pavilion in it's history, the ABC Kids Expo is set to launch Maternity Square™. This specialty showcase was created based on a competitive analysis which noted that major apparel events demonstrated a shift in focus away from the maternity sector and at the same time several competitive events ceased operation. ABC recognizes that maternity fashion is a specialty boutique market. Since the ABC Kids Expo launched in 2003 specifically for the benefit of the Juvenile Products Manufacturers and the Independent Retail Stores they serve, ABC sees the new showcase as a perfect fit for our base of retail attendees.
Maternity Square™ will feature two runway shows during the ABC Kids Expo held within the exhibit hall. Runway events are planned for the afternoons of Monday, October 11 and Tuesday, October 12. For a complete list of maternity retailers, please visit the ABC Kids Expo website at: www.theabcshow.com and click on the links for the On-Line Floor Plan.
2010 ABC is the Largest Show Ever
The 2010 edition of the show will not disappoint. Eric V. Seemann, Promotions and Production Manager reports, "The 2010 event is sold out and will be our largest show ever." He added that "We continue to expand our international outreach with each successive year. The continued promotion of our unique event throughout Europe, South America and the Pacific Rim is paying off with international registrations running well ahead of previous years."
All Baby & Child, Inc. expects that the 2010 event will have over 3,000 domestic and international retail stores in attendance in addition to over 3,500 booths in nearly 1 million square feet of exhibit space. ABC is announcing that registration for 2010 is ahead of any previous year's attendance and total attendance is expected to reach 15,000 people.
"Simply put: more exhibition space means more opportunities to find new products, amazing product refreshes, and incredible company launches into the Juvenile Products market."
Recently members of the ABC Board and Staff were present in Las Vegas making final preparations for the always popular All Attendee Industry Reception. This year's big party will be held on Monday October 11, 2010 which will feature a 1950's theme with Bowzer's Rock and Roll Party, Shirley Alston Reeves (Rock and Roll Hall of Fame Inductee) of the Shirelles, and Rocky and the Rollers.
As with all ABC events, registration for the 2010 ABC Kids Expo is FREE to qualified retailers. Visit the website at www.theabcshow.com for more information and to register.
With nearly 1,000 exhibitors, 3,650 booths in one million square feet of exhibit space,
the largest juvenile products show in the world kicks off on October 10th at the Las Vegas Convention Center. Retailer pre-registrations are also running nearly 15% ahead of last year, with record international attendance. Over 65 countries are currently registered to attend this powerful event.
The fully categorized show includes new product launches for baby, teen and all the children inbetween, including its popular and expanded Modern Child® and Naturally Kids® pavilions along with over 250 first time exhibitors. New this year is the show's Maternity Square™ pavilion, showcasing 50 companies that produce maternity and related products.
For more information and registration, please visit: www.theabcshow.com or call (210) 691-4848.
All Baby & Child, Inc. (ABC Kids Expo)
PO Box 780847
San Antonio, TX 78278
United States
Latest Buzz on All Baby & Child, Inc. (ABC Kids Expo)…