No Slippy Hair Clippy Helps Domestic Violence Victims Rebuild Their Lives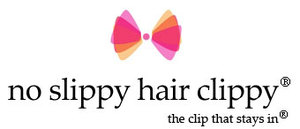 Did you know that Oscar-winning actress Halle Berry has made it her personal cause to help families recover from domestic violence? For years, Ms. Berry has been working with The Jenesse Center, a Los Angeles-based shelter which takes in women and children escaping from domestic violence situations.
The noted actress took her involvement to a higher level when she remodeled one of the center's transitional housing apartments and turned it into Nahla's World, which is a play center and free boutique where moms can get home supplies and garments. Many of these women have been forced to flee their homes with nothing but the clothes on their backs.
No Slippy Hair Clippy® has agreed to donate some of its most popular hair accessories to this life changing charity. By giving to mothers with young girls, we hope to help them begin to feel good about themselves again. Domestic violence can shatter lives, confidence, and self-esteem, so maybe wearing a cute hair clip will help bring back smiles.
No Slippy Hair Clippy® will be donating a collection of hair accessories via the Boom Boom Room Pre-Golden Globes celebrity gifting event. This event is to be held on January 14th & 15th in Los Angeles. Spread this post via Twitter and Facebook so more people can become inspired to donate to Nahla's World and help domestic violence victims rebuild their lives.
No Slippy Hair Clippy, Inc.
801 Alamo Drive
Vacaville, CA 95688
United States
Latest Buzz on No Slippy Hair Clippy, Inc.…