Playtime New York is Just Around the Corner!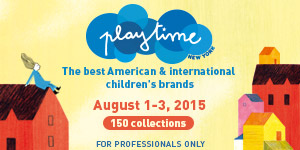 PlaytimeNY will spotlight 90 creative brands at its fifth edition at SoHo's 82 Mercer (82 Mercer Street between Spring and Broome Streets).
Playtime's signature sophisticated yet whimsical ambiance will set the tone.
The Brands - Some figures
A unique selection of 90 American and international brands offering a creative and simulating vision of Summer 13.
Exhibiting this season for the first time, many brands are looking forward to expand business at the American market: Pazitos, HBB, Grow studios, Hazel Village Toys, Bouton, Mirasa design (USA), The Brand (Sweden), Chat mechant (Belgium)… and many others join Playtime New York!
In addition, many important brands are returning to the show this season, between them: Lucky Wang, Mini & Maximus, Noch, Neve/Hawk, Atsuyo et Akiko (USA), 10is, Pom d'api, Le vestiaire de Jeanne (France), Bobo Choses, Yporqué (Spain), Noé & Zoë, Tannhaüser (Germany)…
For this next edition in August, Playtime New York is about to grow with more brands exhibiting, always with the same demand and desire to enable its visitors to experience a quality offer in an exceptional environment.
DREAM is the theme of this summer edition!
Whether they are gentle, mysterious or nightmarish, dreams will be explored in all our exhibitions, events and trend spaces.
Special Events
A new illustrator
Since its creation in 2007, every year Playtime selects a new artist to illus- trate its trade fairs in Paris, New York and Tokyo.
This year we are pleased to be working with talented American illustrator Patrick Hruby, who will take us on a journey through his colorful, geometric universe!
…To discover on our three websites:
www.playtimeparis.com
www.playtimetokyo.com
www.playtimenewyork.com
The Bonecas dos Sonhos will be presenting the dreams of their community back in Brazil. Each one carries the name of its creator and a dream ('sonho').
Available for adoption, these pieces of art are a concrete opportunity to generate new sources of income for the village that can no longer survive off of fishing. Profits are donated to the cooperative's 'social initiatives' budget, destined for children's education and land preservation initiatives.
www.facebook.com/duda.bonecas.dos.sonhos www.co-nekt.com/web/contramundo-blog
Trend Space
Playtime's mission is to provide a space which is not only conducive to commerce, but encourages brands and retailers to understand new trends and inspires creativity.
Every season well established artists or those still to be discovered are associated with our trend spaces. They present work especially created for Playtime in installations where art mingles with new trends. Dreams will be the guests of honor in the three trend spaces suggested
by our trend-setter Julie Malait and all produced by New York based artists.
PlaytimeNY
Headquartered in Paris, France,
Playtime is recognized for excellence in the organization of trade shows and offers the world's largest trade show network for children's collections.
Launched in 2006, Playtime Paris quickly became a must-see trade show in Europe with around 400 exhibitors. Playtime Tokyo debuted in 2009 and is now the biggest children's fashion trade show in Japan.
Playtime New York offers a comprehensive international selection of today's best collections in the children's market. The show encompasses infant and chil- dren's clothing, shoes and accessories, baby gear, toys, deco/design products.
The stunning venue, 82 Mercer, reflects both a creative and commercial style, in one of New York's trendiest neighborhoods. The show provides an easy-to- navigate layout and an open booth design, which affords exhibitors the oppor- tunity to customize their area.
As a special convenience for professional visitors, the show will also operate a complimentary shuttle service between 82Mercer and The Show Piers.
Playtime New York
34 West 33rd Street / Suite 314
New York, NY 10001
United States
Latest Buzz on Playtime New York…