Playtime New York Is Booming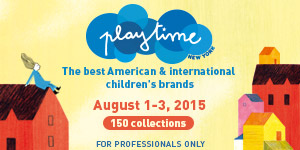 March 8-9-10, 2014 23 Wall Street, New York, NY, 10005
Installed since last summer in the heart of Wall Street, Playtime New York is proud to say that the upcoming show, the 8th edition, which will host nearly 120 international collections, is completely sold out.
This unique event, which brings together today's best children's brands, will explore the theme of light, through trends spaces, art installations
and exclusive entertainment.
Fashion, accessories, decoration, design, gifts, baby gear…an avalanche of new collections awaits you this season at Playtime New York.
Presenting nearly 120 collections, the American show is enjoying an exceptional 19% increase in the number of exhibitors compared to last year. Predominantly American brands (60%) although there was a sharp increase in French brands (14%) and Spanish brands (8%).
Firmly anchored in the buying habits of the most attractive American shops, Playtime New York will offer a unique combination of well established brands and newcomers.
The "faithful" ones include: bobochoses, atsuyo et akiko, makie, caramel baby and child, blabla kids, noë et zoê, lucky fish, jess brown, mini & maximus, etiquette, p'tit chic de paris… Or aymara, oeuf, hansel from basel, radish moon, tuchinda and bubino will make their return.
The ranks of newcomers continues to grow, with 43% of brands exhibiting for the first time. Indeed, Playtime New York is unquestionably THE not-to-be missed event for all those in search of the perfect classics or the latest trends.
We will also be giving a warm welcome to: nellystella, hello shisho, le big, haba, urban infant, tocoto vintage, les enfantines, bonheur du jour, rouxroo, belle enfant, louise misha, seesaw, wolf & rita, wubby, motoreta, omamimini, and anton et zéa…
The deco/design sector is still growing and now represents 20% of the Playtime offer. Even more gifts, toys, soft toys and blankets to meet the wintertime desire for cocooning.
Playologie
All of the bright names from the children's and layette market will be gathered at Playtime, where they will witness the presentation of the new online marketplace, Playologie.
Fashion for babies, children, juniors, maternity, layette, gifts, design… more than a simple virtual trade fair, it's a veritable, private B2B work tool for market professionals, allowing each one to gain time and to optimize their business.
Several of the new tools for Playologie, which is set to launch in June 2014, will preview this season, especially its "ready-to-shoot" photo studio.
It's a concrete solution to a recurring problem for the brands: how to find the time to photograph the collections that they've just received from their workshops right before the fair starts. Cut-out photos on a white background, front and/or back, at cost; a true revolution and a service that has already been ordered by some 50 exhibitors.
In order to offer this service Playologie is working with Focal Media Group, the exclusive distributor of the StyleShootsTM photo studios for the USA.
StyleShootsTM Horizontal and StyleShootsTM Vertical are "all-in-one" photo studios known for shooting products and automatically erasing the background. No more retouching is necessary and the photos are ready to use. Thanks to the iPad app that controls the StyleShootsTM, which can choose from up to 25 export formats, photographing your collections has never been so simple and fast.
Discover in exclusivity StyleShootsTM at Playtime New York!
Playtime New York
34 West 33rd Street / Suite 314
New York, NY 10001
United States
Latest Buzz on Playtime New York…