Playtime Announces a Great New Venue for the March Show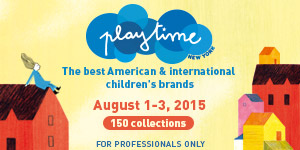 With a selection of 110 American and International collections, Playtime New York is growing bigger and moving to Saint John's Center at 570 Washington Street. A great new venue that's also easy to access and a perfect working environment for everyone.
The next edition will be 9-11 March, 2013. We'll be very happy to meet you there.
Playtime New York
NEW VENUE
Saint John's Center
570 Washington Street (at W Houston)
New York, NY 10014
Free shuttles between Saint John's Center and the Javits.
More info on www.playtimenewyork.com.
Playtime New York
34 West 33rd Street / Suite 314
New York, NY 10001
United States
Latest Buzz on Playtime New York…