Playtime Opening Cocktail Reception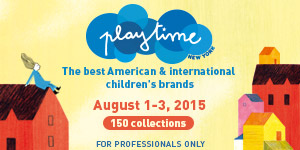 Join us to toast the 5th edition of Playtime New York!
Light-hearted summery music will set the tone at the traditional opening cocktail sponsored by EARNSHAW'S magazine on Saturday night, a good occasion to meet over a drink.
An evening animated by warmth and a good mood.
Playtime New York, August 4-6, 2012
82 Mercer street (between Spring and Broome), New York, NY 10012
Saturday: 9AM > 6PM (+ Opening Cocktail Reception)
Sunday: 9AM > 6PM
Monday: 9AM > 5PM
www.playtimenewyork.com
Playtime New York
34 West 33rd Street / Suite 314
New York, NY 10001
United States
Latest Buzz on Playtime New York…