ABC Kids Expo Focuses on Roots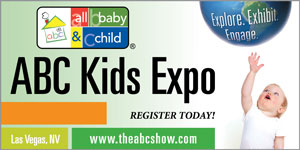 ABC Kids Expo Expands International & Philanthropic Reach
It's a busy and exciting time for All Baby & Child Corporation as they prepare for the 11th Annual ABC Kids Expo. In case you haven't heard, North America's premier juvenile products trade show is coming back to the Las Vegas Convention Center on October 15 - 18, with plans for several new features.
Hotels and businesses near the convention center and along the Las Vegas strip are already gearing up to welcome back an anticipated crowd of nearly 14,000 buyers and sellers of the latest baby products and services.
Exhibit space is filling quickly, with high demand in popular areas like the New Product Showcase, Modern Child® Pavilion, Naturally Kids® Pavilion, and Maternity Square® Pavilion & Runway. An exciting addition this year is the Invention Connection, which will feature brand new products that are still in prototype stage or ready for production.
International Flavor
ABC Kids Expo attracts attendees and exhibitors from all over the world, with over 65 countries represented at last year's show.
Two international pavilions will debut at this year's show with overseas manufacturers wishing to introduce new products to the U.S. market.
The UK Pavilion is being hosted by Harrogate Nursery Fair, the largest juvenile products trade show in Great Britain, in partnership with the Baby Products Association (BPA). The China Pavilion is being hosted by CBME (Children-Baby-Maternity Expo), one of the world's largest juvenile product shows and part of the UBM global event network.
Through this alliance with Harrogate/BPA and CBME, All Baby & Child has hosted its first annual North American Pavilions at the UK and China shows in 2013, giving interested ABC exhibitors an unparalleled entry-level opportunity to reach both of these important international markets with minimal expense and maximum reward.
Over A Decade of Service
Since All Baby & Child was founded back in March 2003, the main objective and purpose of the corporation has been to act as a business league that helps organize and conduct trade shows for the benefit of juvenile product manufacturers, specialty store retailers, distributors and manufacturers' representatives of juvenile products.
With more than 900 exhibitors utilizing 3,500+ booths in nearly one million square feet of exhibit space, All Baby & Child rightfully takes pride in the fact that the ABC Kids Expo is one of the fastest growing trade shows in the nation, has won numerous awards, and currently ranks 38th among the 100 largest trade shows in North America according to Trade Show Executive.
Support for Independent Retailers
All Baby & Child recognizes that the time and expense of attending a show this large can sometimes be a hardship for the independent specialty store owners at the heart of our industry.
For this reason, they established the ABC Spring Educational Conference & Trade Show (ABC SEC), the first annual event designed exclusively for the juvenile specialty store market. The 6th Annual ABC SEC will take place at Walt Disney World® Florida on May 20 - 22, 2014.
The ABC SEC offers small business owners a chance to get tips from top marketing and industry speakers on how to succeed in this evolving marketplace, learn about hot topics and trends, and participate in peer-to-peer discussions of best practices. They also have plenty of time to network with fellow buyers, retailers, manufacturers and trade media at receptions, luncheons and refreshment breaks.
A big plus is that they get to meet with key suppliers whose products and offerings at the SEC's "ballroom-size" trade show are designed specifically for independent retailers.
Brixy®, the trade association for independent specialty stores, hosts many of the educational components for this event.
Philanthropic Endeavors
Charitable giving has always been a component of this non-profit corporation's charter. Over the past 10 years, All Baby & Child has donated over $3 million to select children's charities, such as First Candle and Kids in Distressed Situations (K.I.D.S.). They have also started a matching grant program with Cribs For Kids.
Through their programs with non-profit organizations such as Opportunity Village in Las Vegas, Nevada, and Teen Challenge KY in Louisville, Kentucky, ABC has been able to receive trade show services and provide short-term job opportunities and income for challenged youth to benefit them and their families.
All Baby & Child's fourteen-member board of directors has also donated funds to approximately twenty other children's non-profit organizations. In addition to cash donations, the organization's exhibiting manufacturers donate millions of dollars worth of product each year through the trade show.
Getting Connected with ABC
For more information about All Baby & Child Corporation, its trade shows and international show pavilions, or its philanthropic efforts, visit www.theabcshow.com or call the ABC Hotline at (210) 691-4848.
ABOUT ALL BABY & CHILD CORPORATION
All Baby & Child (ABC) is a historic partnership between independent specialty stores and the manufacturers who support them. Their united goal is to promote the continued growth and prosperity of independent retailers and manufacturers in the juvenile products industry.
Their objective is to produce trade shows and events that enable ABC to fund critical needs in the industry, provide educational opportunities to industry constituents and grant assistance to worthy charitable organizations, while always protecting the financial health of the trade show.
The ABC Kids Expo® and ABC Spring Educational Conference & Trade Show are private trade events and not open to the general public.
All Baby & Child, Inc. (ABC Kids Expo)
PO Box 780847
San Antonio, TX 78278
United States
Latest Buzz on All Baby & Child, Inc. (ABC Kids Expo)…