A Perfect Pair: pediped™ Collaborates with No Slippy Hair Clippy® on Matching Shoes
&

Hair Clips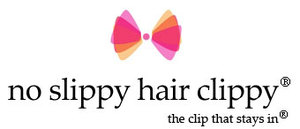 (April 2009) This fall, pediped™ footwear will introduce pediped™ hair clips by No Slippy Hair Clippy®. The launch represents a collaboration between the companies to create hair clips that complement pediped™ footwear's best-selling styles: Giselle, Abigail, and Isabella. Infants and toddlers can now look even more adorable in these hand-crafted leather and grosgrain hair clips wrapped in Swiss velvet for a comfortable fit without tugging.
"This project was a joy to put together, "says Angela Edgeworth, President and co-founder of pediped™. "When we first thought of making hair clips, No Slippy was the first company that came to mind. We were impressed with No Slippy's high quality, and felt that their clips offered our customer similar benefits in terms of quality construction, comfort, and appeal. We hope our customers have fun with them!"
Available in early August, the hair clips will retail for $8 and be available at select pediped™ footwear retailers as well as online at pediped.com and hairclippy.com.
About pediped™
pediped™ footwear was launched in 2004 by Angela and Brian Edgeworth in their quest for the perfect soft-soled shoe for their first daughter. Exceptional quality, unsurpassed comfort and distinctive styling have made the award winning company one of the fastest-growing children's footwear brands in the United States. pediped™ footwear is sold in over 2500 stores in the United States and 40 countries worldwide with an offering of more than 120 designs for boys and girls between their two lines, Originals and Flex. Originals (soft-soled shoes for newborns to age 2+) and Flex (rubber-soled shoes for children 1-6 years) are available in EU sizes ranging from 17 to 29. For more information, visit www.pediped.com or call 1-702-567-0311.
About No Slippy Hair Clippy®
No Slippy Hair Clippy's® premier line of hair clips has expanded, thanks to the new, unique styles created exclusively for pediped™. Widely regarded as the most innovative company in the children's hair accessory marketplace, No Slippy won an Earnie award in 2008 for design excellence in children's fashion. President/CEO Annie Salyer takes on new challenges eagerly, and No Slippy's joint venture with pediped™ was no exception. "We loved the idea right from the start!" she exclaims, "Coordinating accessories from head to toe – who could resist?" For more information, visit www.hairclippy.com.
No Slippy Hair Clippy, Inc.
801 Alamo Drive
Vacaville, CA 95688
United States
Latest Buzz on No Slippy Hair Clippy, Inc.…